Tuesday, January 31, 2012
some reviews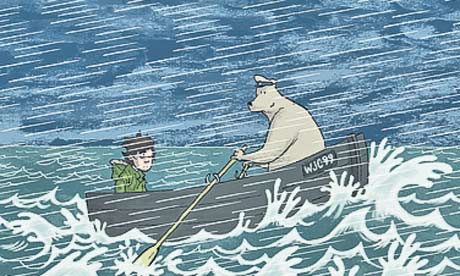 Quite excited on Saturday to read nice
Mr Philip Ardagh
's review of A Boy and a Bear in a Boat, in the
Grauniad
on Saturday. Good Dog, Bad Dog got no such recognition in print, despite having largely been serialised in said paper before appearing in the DFC and then in book form, so it was lovely to see BBB favourably reviewed in my own newspaper of choice.
Equally lovely was the
review
on the Library Mice website. I'm particularly interested in the views of both teachers and librarians so kind words from a school librarian are doubly welcome. I've also recently written briefly about my choice of five funny picture books for Library Mice
here
.
Perhaps best of all though is the report from
Storytellers Inc.
about taking copies of BBB into schools as part of their Cool Books in School scheme. Some honest reactions from kids to the cover ('boring, dirty, plain and dull') but they seem to have been won over by the contents in the end. Huge thanks to Storytellers Inc. for this. It really is very pleasing indeed.